Term 1 House Cup Winners
Hey everyone! It's time to reveal the winners of this term's House Cup competition. MWPS is thrilled to announce that after weeks of intense competition, the House Cup goes to none other than… drumroll… Kowhai!
Kowhai has emerged victorious, showing incredible teamwork, courage, and determination throughout the challenges. But let's not forget to give a huge shout-out to the runners-up, Waiporoporo, Kakariki and Karakaraka who put up an incredible fight. Keep up the fantastic work, and let's make the next term even more exciting!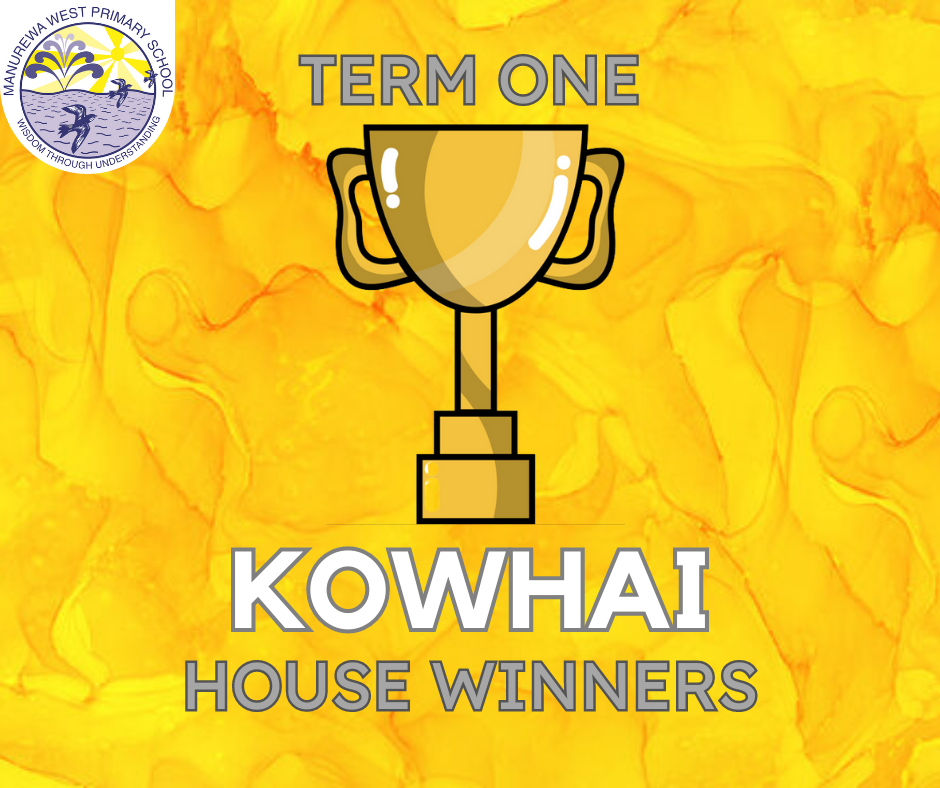 Anzac Assembly
As we commemorated ANZAC Day, we remembered the sacrifices made by the Australian and New Zealand soldiers who landed on the beach at Gallipoli on April 25, 1915. We also remembered the many other brave servicemen and women who have served and continue to serve our country. As always we give special acknowledgement to the Māori Battalion. The Māori Battalion, also known as the 28th Māori Battalion, was formed in 1939 after the New Zealand government agreed to the formation of a Māori unit, in response to a request from Māori leaders who wanted to show their loyalty to New Zealand and support for the war effort.
The Māori Battalion served in the Middle East and North Africa and was involved in many key battles, including the Battle of Crete, the Siege of Tobruk, and the Battle of El Alamein. The Battalion was renowned for their bravery, discipline, and fighting spirit, and earned a reputation as one of the best fighting units of the Allied forces.
Anzac Day always brings reflection, meaning and a sense of deep gratitude.
Today and every day, we remember them.
Health & Physical Education Week
Health and Physical Education Week, was an exciting event that emphasized the importance of maintaining a healthy and active lifestyle. The week was packed with engaging activities and workshops that encouraged our akongā to stay fit and healthy.
During the week, our learners participated in a series of nutrition workshops that taught them the importance of eating a balanced and healthy diet. These interactive workshops provided our students with valuable knowledge and insights into the food they consume, helping them make better food choices.
Another highlight of the week was the whole-school Jump Jam sessions, which were led by our amazing Miss Val. Jump Jam is a popular fitness program that combines dance and aerobics to promote an enjoyable and healthy way to stay active. Our students were thrilled to participate in these energetic and fun-filled sessions, which helped them to stay fit and active.
To conclude the week, we had an exciting Athletics Day that featured a range of activities and challenges. Our students took part in sprint races, balancing activities, and a variety of target-throwing challenges using hoops, weighted bags, and small balls. It was a fantastic way to end the week and encourage our students to put their newfound knowledge and skills into practice.
Writing Week: MWPS Comic Creations
Manurewa West Primary School recently celebrated a successful Writing Week with the theme of 'Cartoon Creations'. This fun and engaging event provided a platform for our students to showcase their creativity and writing skills through cartooning.
As a special highlight, we were fortunate to have New Zealand author and cartoon artist, Stu Duval, visit our school. Stu ran a series of workshops over two days for all three whānau groups Riroriro, Pīwakawaka and Tūī. The workshops were interactive and engaging, allowing our students to learn about the process of creating cartoons and comic strips, from developing characters to writing storylines.
The workshops were a huge success, with Stu sharing his experiences and insights into the world of cartooning and providing valuable tips for aspiring writers and artists. Our students were thrilled to learn from a professional and inspired by his passion for the craft.
What Now
A highlight from Term 1 was definitely having the What Now team visit us at Manurewa West Primary School. It was amazing! Mr Rosewarne ended up on stage doing the 'Caterpillar' and then was covered in ….gunge!
Whakapapa Trip
Every learner in our kura was involved in our Whakapapa Trip, this was an incredible opportunity for our students to learn about the rich history and cultural significance of our māunga and moana. We started the day at the base of Matukutureia where we took time talking about the history of the māunga and practising our sketching skills. Then we continued on our whakapapa journey and spent time at Manukanuka, our moana. We took rubbish bags and gloves and collected as much rubbish as we could find so our beach and nearby playground could be enjoyed by the whole community. Then we had the opportunity to play different Māori games that Mrs Madden had organised for us. We learnt so much and now when we say our school pepeha we know we are connected.
Whānau Picnic
It has been a long time since we have all been able to come together at the start of the year and enjoy a shared experience. Our Whānau Picnic is an annual event that provides a great opportunity for our MWPS community to come together and enjoy an evening of fun and relaxation. There were plenty of activities for all ages, including games, sports, colour fun, and more. Everyone brought their picnic blankets, chairs, and sunscreen, and we all had a great time. It was wonderful to see our school community come together and enjoy each other's company.
Congratulations to all our spot prize winners!
Assembly
One of our weekly highlights is coming together at the end of each week to share at our MWPS Assembly. This week PW1 and PW2 presented their learning and shared some amazing statistics mahi that they had achieved together in class. Check out our video below, or even better come and join us on Friday mornings at 9am in the MWPS Hall for Assembly. All welcome
Mihi Whakatau
On the first Friday of school, we welcomed new students and staff into our MWPS whānau with a mihi whakatau. For those new to our shores, a mihi whakatau is a traditional Māori welcome ceremony. The purpose of the mihi whakatau is to remove the tapu of the Manuhiri (visitors) to make them one with the tangata whenua (Home people). It is a special process of the manuhiri and the tangata whenua coming together.
A warm welcome to our new whānau, we are so pleased you have chosen MWPS to serve your tamariki and whānau. The start to the 2023 school year has not gone as hoped, but in all things we celebrate our special moments & uplift others, extend manākitanga and foster a sense of whanaungatanga.