Term 2 House Cup Winners
Three terms down and one to go and our MWPS House Cup competition is intense. MWPS is delighted to announce that, following weeks of fierce competition, Kowhai has taken out the House Cup for Term 3.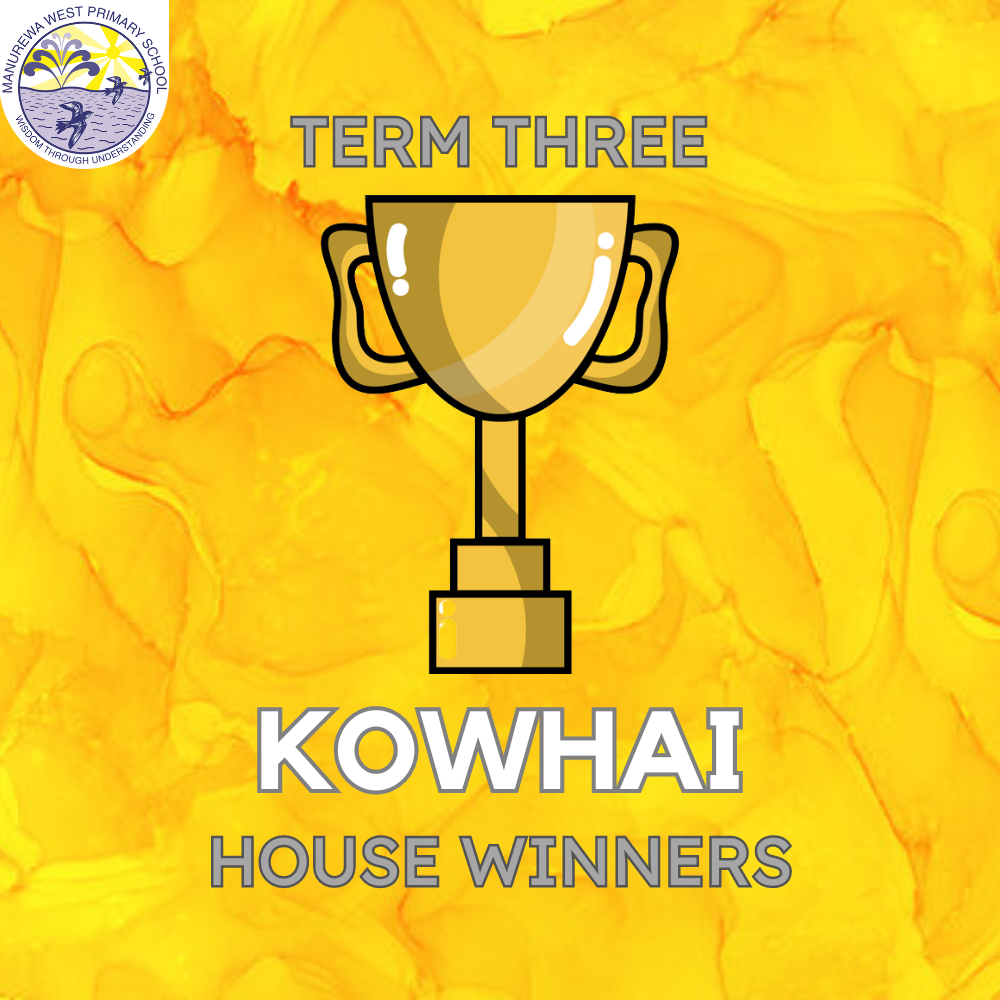 1st Place: Kowhai 36,986 points
2nd Place: Karakaraka 36,640 points
3rd Place: Kakariki 36,464 points
4th Place: Waiporoporo 35,172 points
MWPS Mahi Tahi Learning Journey
It was wonderful to host our MWPS Learning Journey open afternoon again after a 3 year hiatus. Parents and whānau explored our kura, visiting classrooms and listening to their children share their learning activities, classroom environment, workbooks and classwork, watched them demonstrate the use of learning equipment, explain their group and collaborative work, and participated in the learning activities set up in their classroom. Lots of whānau were active asking questions about the work and learning their children were doing, what they would like them to continue working hard at, the pleasing developments they could see them making and sharing suggestions or stories of their own learning experiences. A huge thank-you to all our parents and whānau who came to join us. Students showing and discussing their learning helps develop a sense of pride in the school mahi. Ka mau te wehi!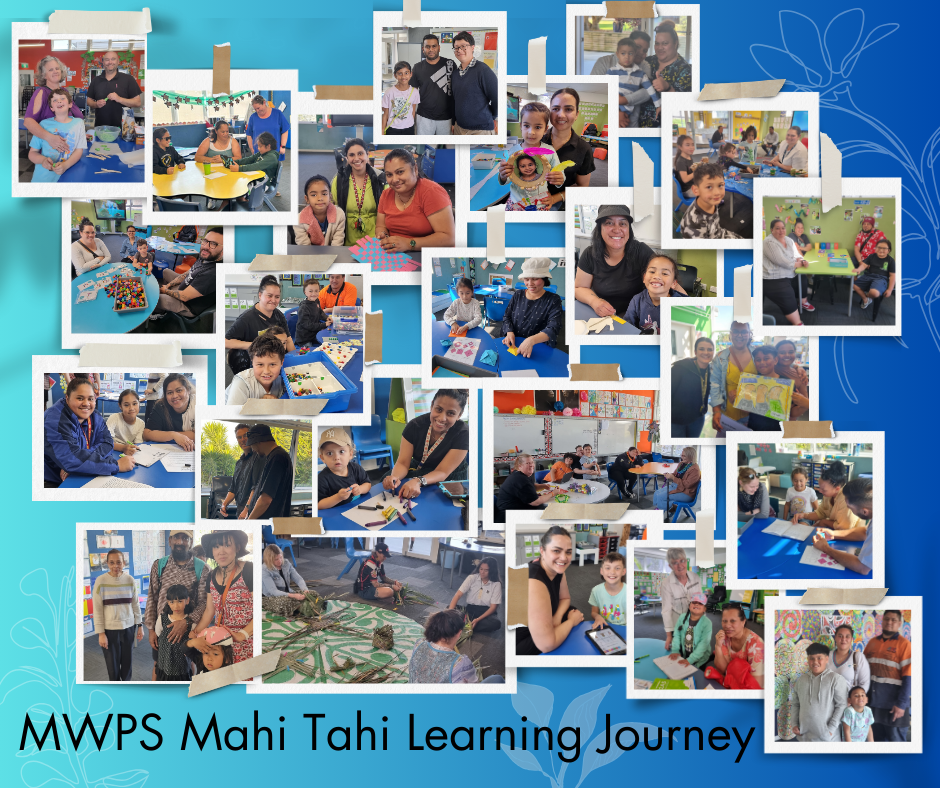 Te Wiki o te Reo Māori
Each year in September, Te Wiki o te Reo Māori is commemorated to pay tribute to Te Petihana Reo Māori and the dedicated advocates who worked tirelessly to ensure the preservation and transmission of te reo for generations to come. This year, the theme "Kia Kaha Te Reo Māori" remained the focus, carrying forward the momentum from 2022 in strengthening the language.
Enjoy watching our Te Wiki o te Reo Māori video which showcases just some of our activities and celebrations.
Tongan Language Week
Tongan Language Week, also known as Uike Kātoanga'i 'o e Lea Faka-Tonga, is a vibrant cultural celebration that takes place annually in New Zealand. It typically occurs in September and lasts for a week, highlighting the rich heritage of our Tongan community. During this week, various events, and activities were organised to promote the Tongan language and culture. It provides an opportunity for our Tongan learners to connect with their roots, share cultural stories and educate others about their language and customs.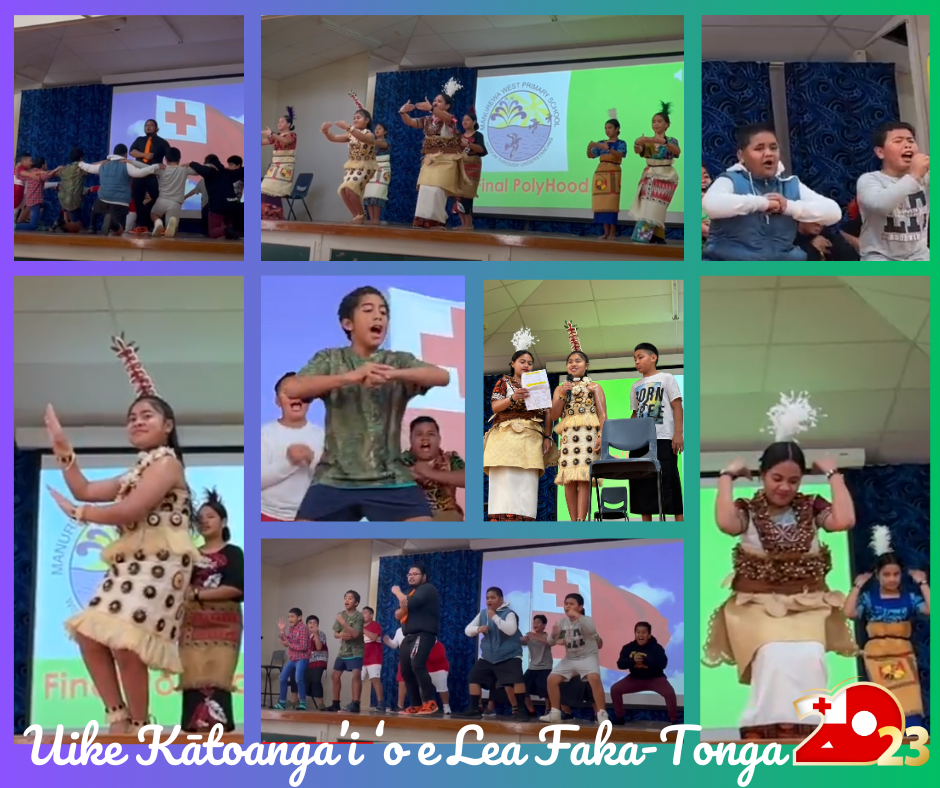 Whānau Workshops: Literacy Learning at MWPS
This term we shared an open invitation to all our parents and caregivers to a series of Wh,ānau Workshops focused on "Literacy Learning at MWPS".
MWPS is participating in professional learning in Structured Literacy and as a result, our teaching practices are changing to align with this teaching approach in spelling, reading and writing. These workshops were wonderful opportunities to share our journey with parents and caregivers.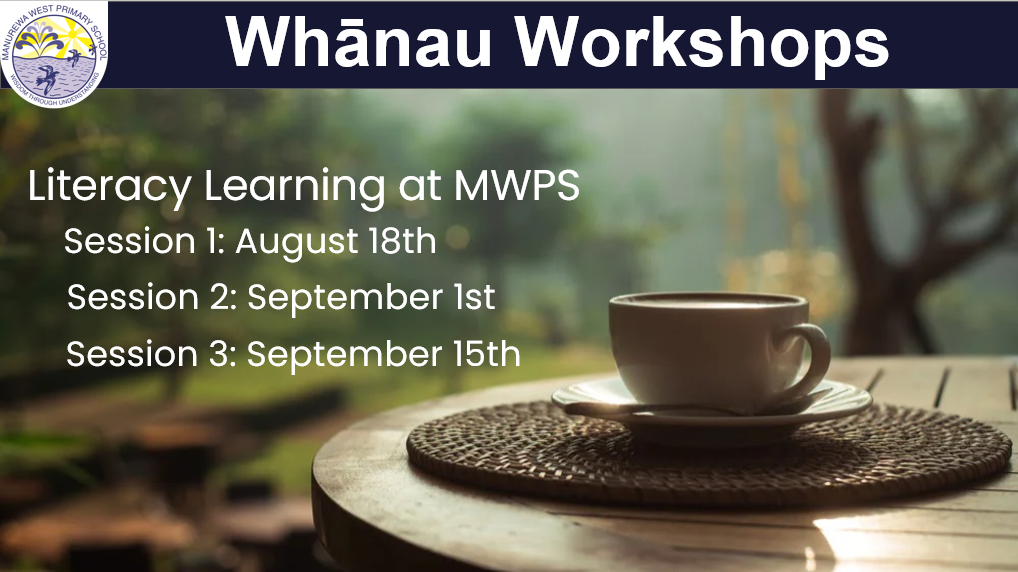 Each session was hosted by our lovely Assistant Principal, Mrs Gosnell where she shared why we are making this important change, what is in our literacy scope and sequence, how literacy is taught in the classroom and where we are headed next. It was a great chance to ask questions and see what your child experiences in our kura every day. Each session ended with tea, coffee and light refreshments. A big thank-you to all whānau who attended.
Key takeaways from our MWPS Whānau Workshops include the following:
Children are keen to show parents and caregivers how to learn to spell and often show their whānau how to syllable tap and finger spell.
Whānau can see that this way of learning is really different to what we experienced as learners. There is a growing sense of "Gee, I wish we were taught this way."
Children are listening to the sounds in words and making connections when reading at home. They find this fun and are keen to show their knowledge.
Parents and caregivers are noticing a big difference and improvement in their children's spelling. Especially for parents with older children who are now seeing the difference in younger siblings.
Parents are really impressed with the dedication and passion our MWPS staff have for their children and are amazed at the commitment to new learning and gold stand literacy practice across the school. This means a lot, thank you!
Whānau are really interested in the new teaching and learning practices but also want to know how they can help at home. As parents, we can see we need to change too and are looking forward to learning what to do.
Book Launch: Ngā Roimata Tioata
The collaboration with the tamariki on a Matariki-themed pukapuka was a remarkable experience, deepening their understanding of this special occasion through personal narratives about each star. This endeavour forged meaningful connections between our learners and their Māori culture, a rewarding outcome. Additionally, the creation of this Matariki resource by our own young authors contributes significantly to knowledge and comprehension of the tradition, promoting cultural understanding and inclusivity.
'Ngā Roimata Tioata, Crystal Tears' has the potential to educate not only our MWPS community but also those unfamiliar with Matariki. This work enriches the lives of our learners, empowering them as published authors and creating a ripple effect of learning and appreciation for Matariki. Congratulations to the writers on this achievement! A special thanks to Mrs Madden, David Riley, the Manurewa Local Board, and Beyond Horizon Trust for sponsoring the book's publishing costs. It's another outstanding achievement for our students, whānau and kura.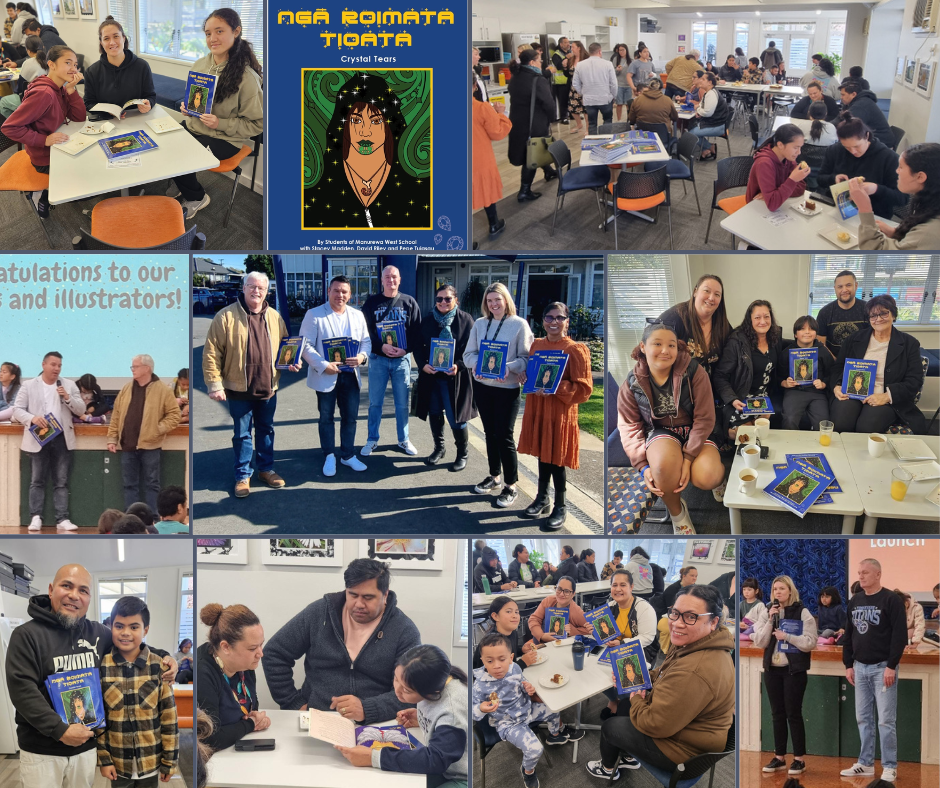 New Entrant Afternoon Tea
Our New Entrant Parent Afternoon Tea was a delightful event that brought together parents of children who had recently joined our MWPS community. Held in our New Entrant Hub, the tea provided an opportunity for parents to connect and get to know each other. The event featured a fabulous information session hosted by our New Entrant Lead Teacher, Mrs Ioelu and our Junior School Team Lead, Mrs Connal and attended by our Assistant Principal, Mrs Gosnell, our Deputy Principal, Mrs Bowden and our Principal, Mrs Naidoo. There was a warm and welcoming atmosphere in the room which was reflected in the range of questions and open sharing from our new parents. It was wonderful to see parents sharing experiences, exchanging advice, and building a network within the school community.
MPSSA Cross Country
The Year 4-6 students who were placed in the top 3 in our MWPS Fun Run for their age group, had the privilege of representing our school at the MPSSA Cross Country event held at Reremoana School. It is always fantastic to watch our students give it their all and the wonderful support they receive along the way from cheerful supporters. We are extremely proud of every student who participated.
Congratulations to our standout runners who were placed on the day:
Year 4 Girls
2nd Place to Kowhai of PW6
4th Place to Tarah of PW5
Year 5 Boys
1st Place to Mohamed of TW3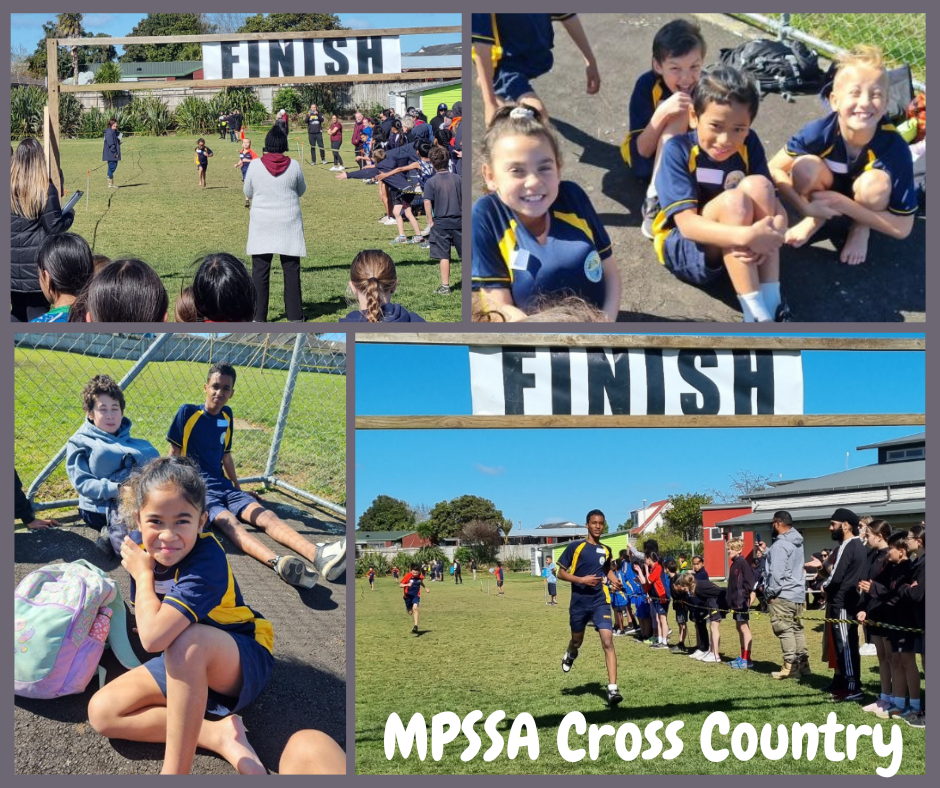 Maths Week
This week was a massive week of maths magic and high-energy learning hosted by our amazing Deputy Principal, Mrs Bowden. On Monday, we kicked off Maths Week and our very own MWPS Football World Cup. Soccer is a team sport, and everyone had a role to play! Each class was their own team and worked collaboratively across the week to complete a range of learning activities to accrue points. Check out our Maths World Cup Challenges:
Design your own country, country name, country facts and prices
Class word problems

Design a soccer ball using

tessellation patterns
Create a class wall display space where you will showcase your country's completed tasks throughout the week.
Write a myth
Design a shin guard to withstand a ball
PE: Soccer skills
Orienteering: Riroriro Whānau
Lunchtime Challenges: Crack the code
Design a soccer uniform
Daily maths riddles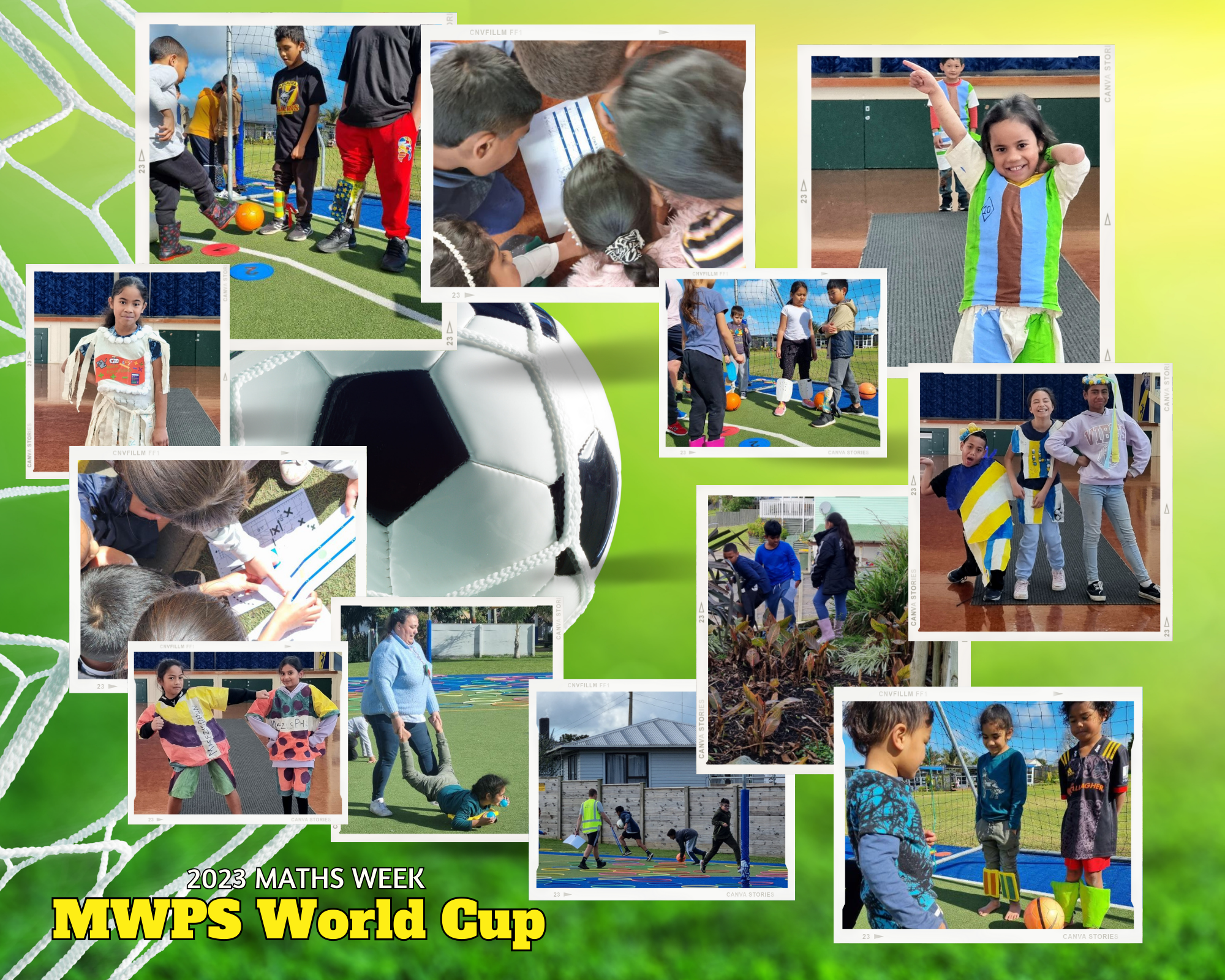 The top country from each whānau headed to the MWPS Football World Cup finals on Thursday afternoon and we wrapped the week up with a Maths Challenge for Friday's House competition. All our learners were commended on their participation and engagement throughout the week. Congratulations to our medal winners; PW4 took out the bronze medal, TW2 took the silver medal, and RW2 claimed the gold medal!
Cook Island Language Week
Kia Orana! We love celebrating Cook Island Language Week!
This year's theme, 'Ātuitui'ia au ki te au peu o tōku kāinga Ipukarea', urges us to connect with the traditions and culture of our homeland. We were very excited to integrate o te reo Māori Kūki 'Āirani into our daily programmes.
As part of our celebrations, we enjoyed performances from our Year 0 – 4 School Pasifika Group and our Senior School Pasifika Group. We were captivated and delighted by the Cook Island Drum Ropu who visited us midweek and showcased a range of skills and talents in Cook Island drumming, ukulele, cultural dance and songs.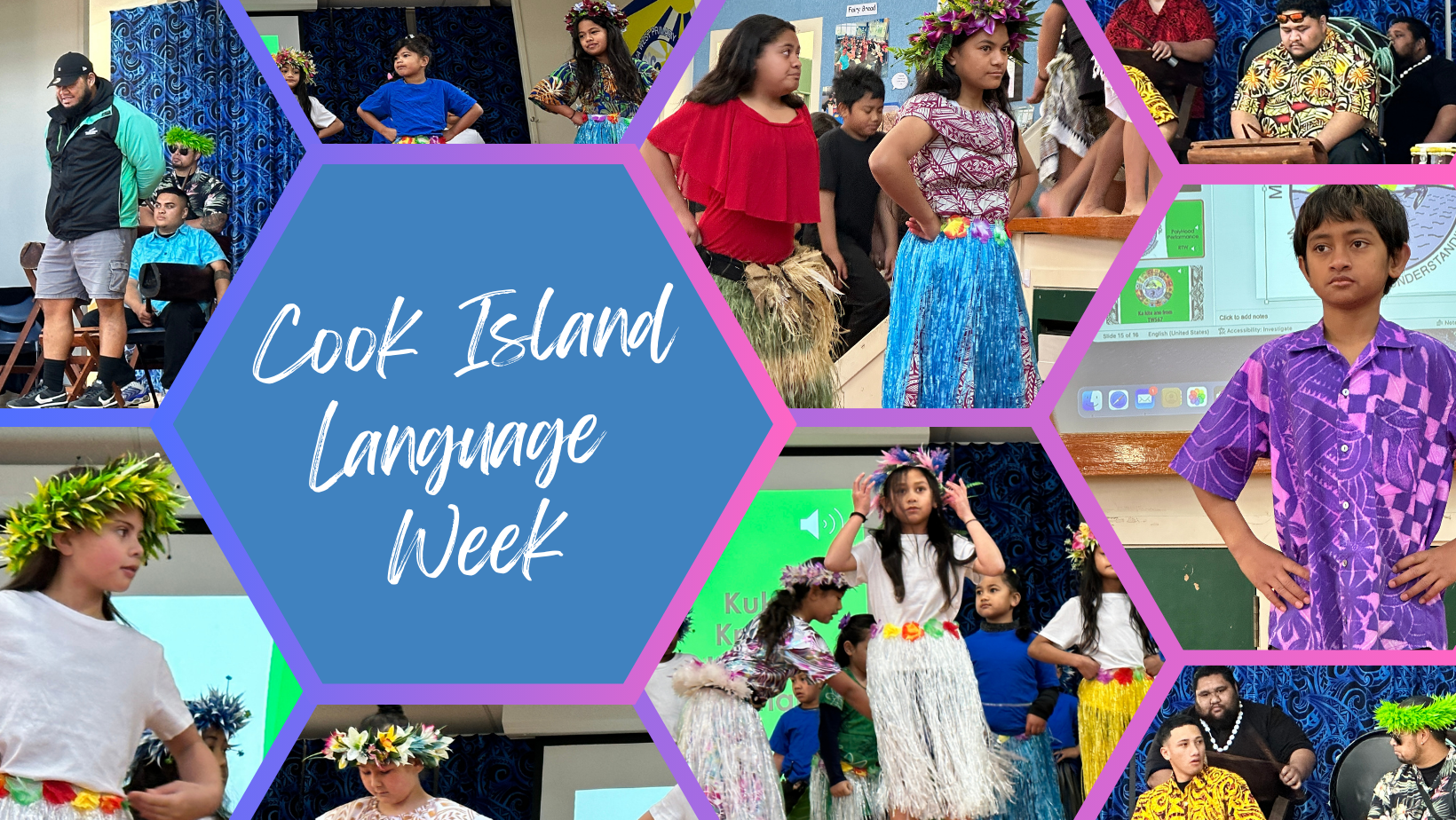 We warmly welcomed our whānau to join us for Friday's assembly, followed by a Fono where we could share ideas and insights about our anau's learning journey. Together, we made Cook Island Langage Week a memorable celebration of our heritage and knowledge.
Counties Rugby and Counties Manukau Steelers
MWPS was lucky to have a visit from Counties Rugby and a few Counties Manukau Steelers players. 36 students were selected to attend and were able to ask lots of questions and had loads of fun playing some different games with the players. Afterwards, Counties Rugby gifted our school a ball signed by all of the Steelers squad, as well as tickets for our lucky students who came along!
Their sponsor Bhana Family Farms also donated 50 bags of potatoes to go home for our students and their whānau.
A massive thank you again to Counties Rugby and the Counties Manukau Steelers, good luck with your season!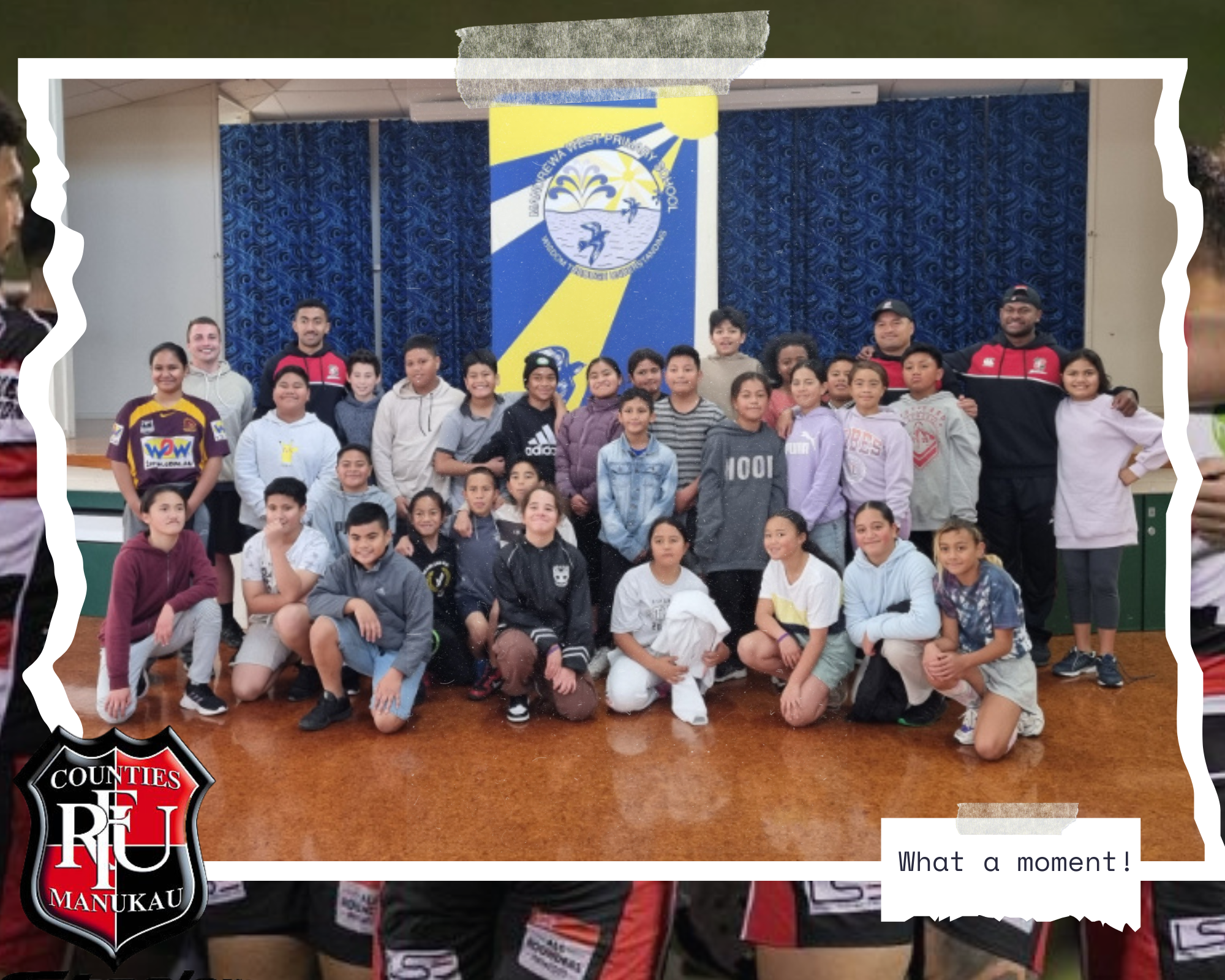 MPSSA Netball Tournament
MWPS took a Year 5 and 6 boys and a Year 5 and 6 girls netball team to compete at the MPSSA Netball Tournament hosted at Browns Road Netball Courts this year. The girls had an awesome day and managed to win 5 of 6 games to finish fifth place out of 21 Schools. The boys also won all their games except one and finished in second place out of 18 Schools. An awesome achievement by our senior school students and we are super proud. Ka pai!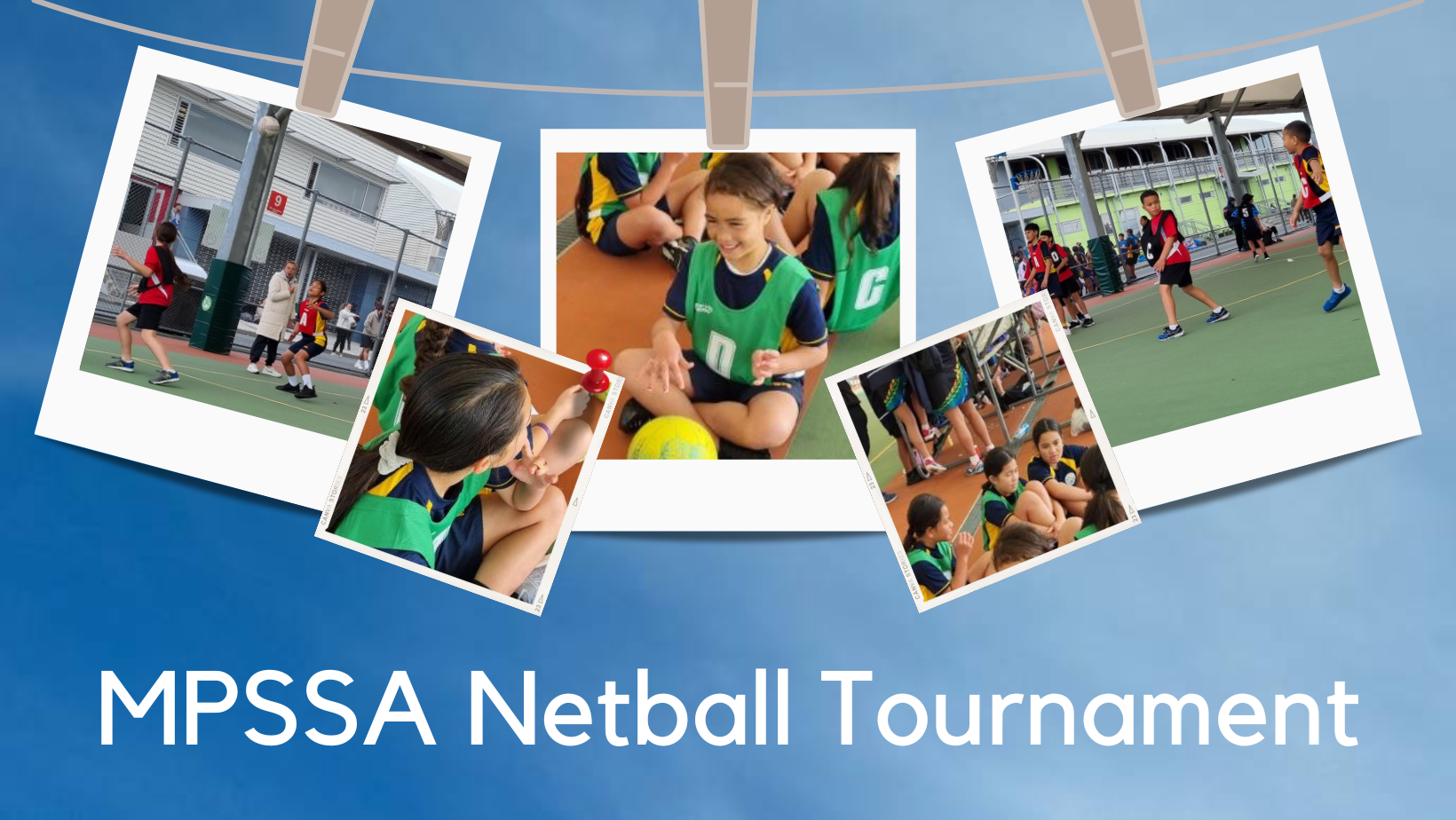 Special mention to Sandina from Manurewa Netball for umpiring both of our teams over the day. Thank you we appreciate it!
Fun Run
Our annual MWPS Fun Run was a vibrant and joyous event that brought together staff and students alike, especially after having to postpone twice due to awful weather. The air was filled with the sound of students' laughter and the sight of their beaming smiles and chalked-coloured clothes as they raced around the track. It was truly heartwarming to see the entire school community coming together for a day of fitness, fun, and camaraderie. With each step, students not only embraced the spirit of healthy competition but also celebrated the importance of physical health and perseverance. The fun run provided an opportunity for our students to learn valuable life lessons while having a blast.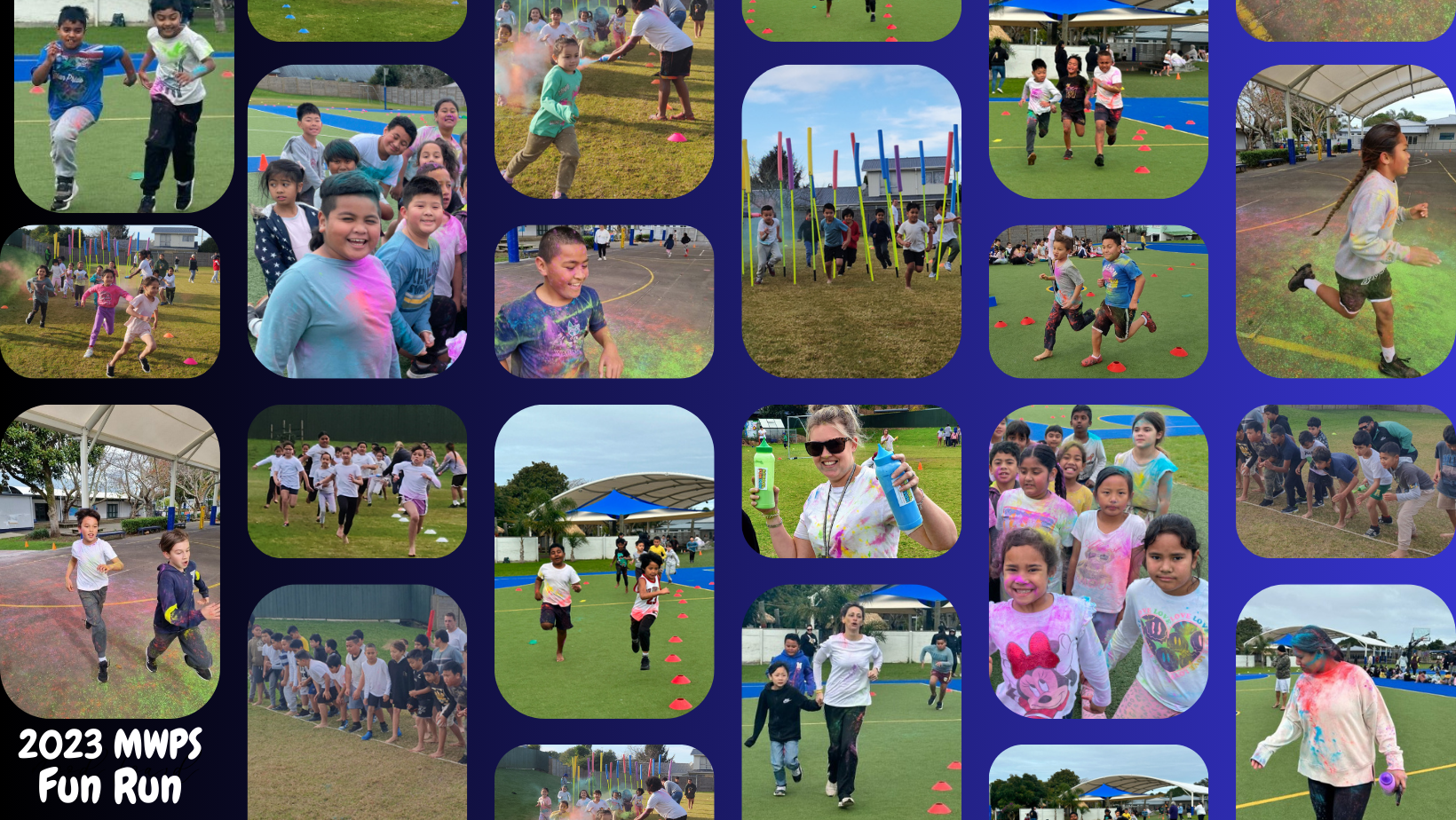 Term 2 House Cup Winners
We are halfway through the year and therefore halfway through our MWPS House Cup competition. MWPS is thrilled to announce that after weeks of intense competition, the House Cup goes to …wait for it … drumroll… Kowhai!
The competition was utterly fierce and ooh so close, what a spectacular finish to the term. Karakaraka moved into second place, Kakariki into third and Waiporoporo fourth. The battle is on!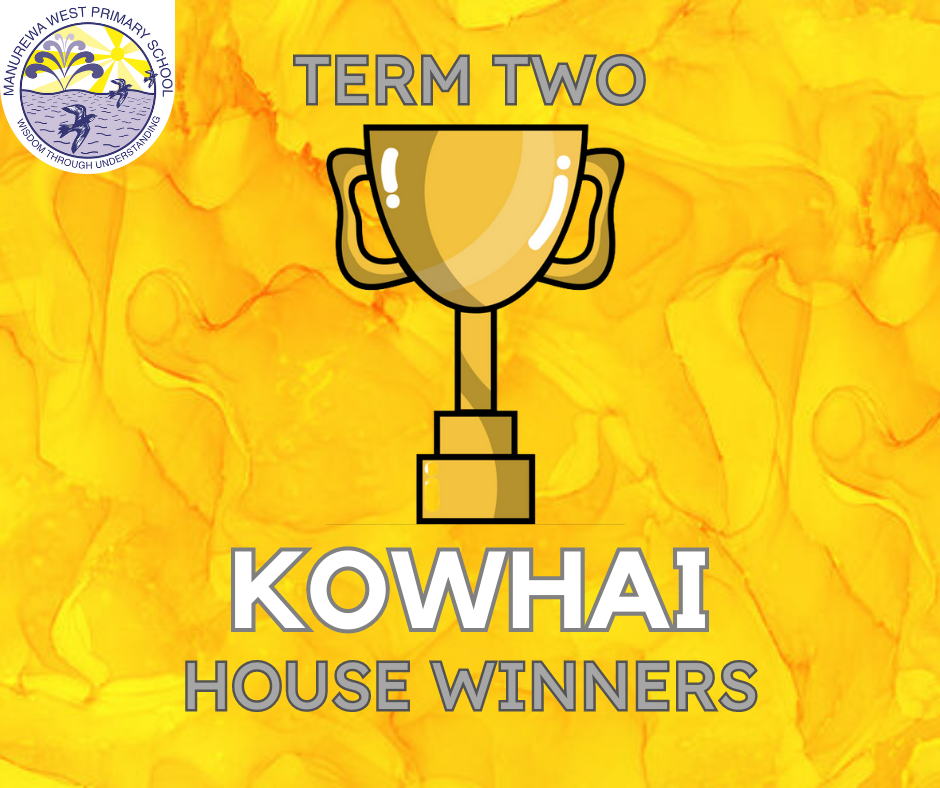 1st Place: Kowhai 22,711 points
2nd Place: Karakaraka 22,705 points
3rd Place: Kakariki 22,606 points
4th Place: Waiporoporo 22,203 points
Steam Week
Steam Week is aimed at inspiring and engaging our students in the fields of Science, Technology, Engineering, Arts, and Maths. During this week-long celebration, our tamariki had the opportunity to explore, create and innovate through a wide range of hands-on activities. We also combined it with our Matariki celebrations. Matariki fell during our holidays this year, so we used the last two weeks of the term to explore and learn all about Matariki. Daily riddles, make and create activities -a fantastic week!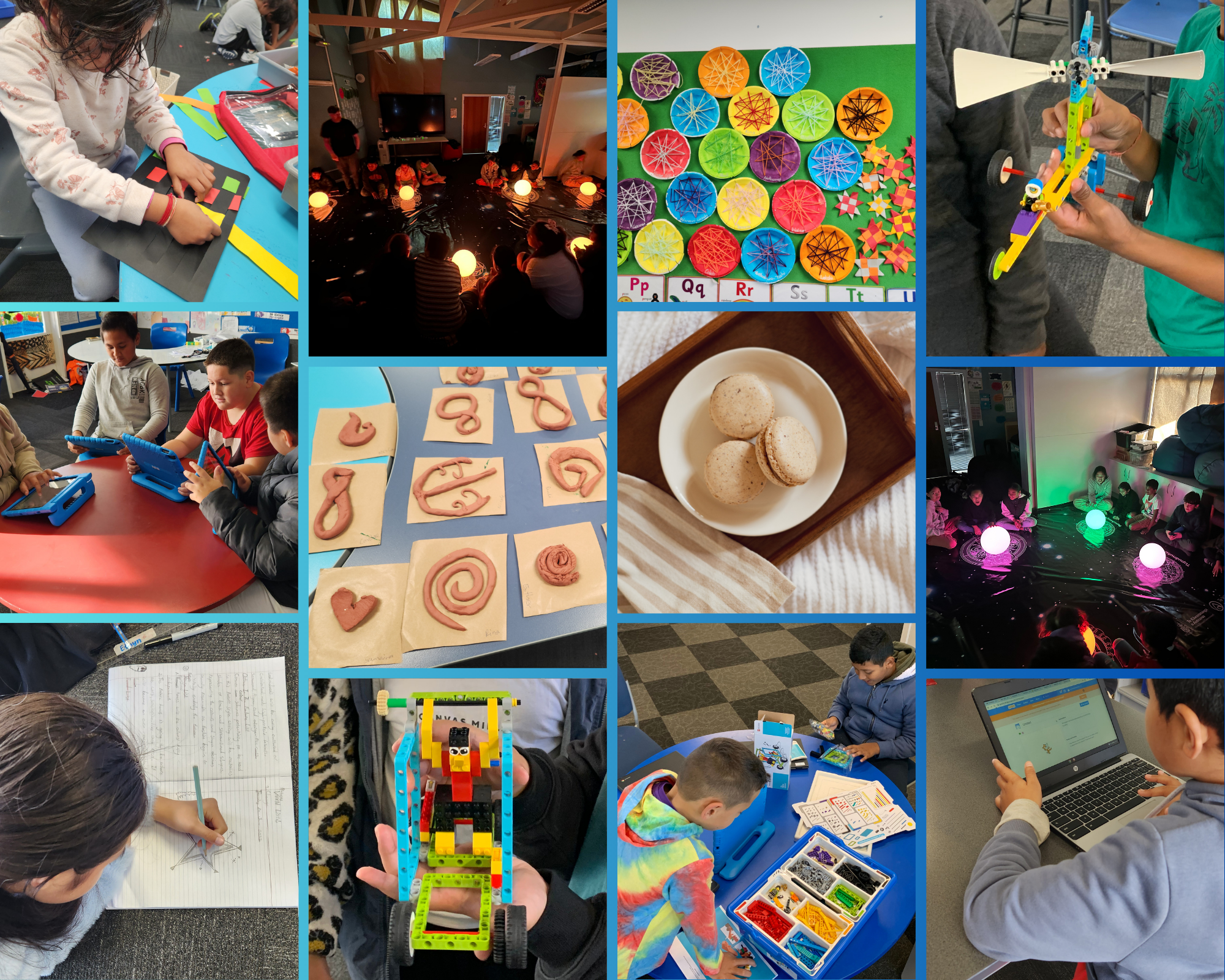 Samoan Language Week
Tālofa lava
Happy Vaiaso o le Gagana Samoa – Samoan Language Week!
This year's theme was 'Mitamita i lau gagana, maua'a lou fa'asinomaga' which means 'Be proud of your language and grounded in your identity'. The Samoan language has many components. There is simple Samoan, and there is more complex Samoan. There is everyday language and then there is respectful language. There is language specific to young people, and then language that pertains to chiefs and orators. The Samoan language has depth. This year's theme for Samoa Language Week encouraged all use of the Samoan language, from the language most fitting for young people, to the Samoan language used by adults and older Samoans. Whatever stage you are at on your language journey, and how well you can speak and understand Samoan, it is important to continue to use it daily so that the Samoan language thrives.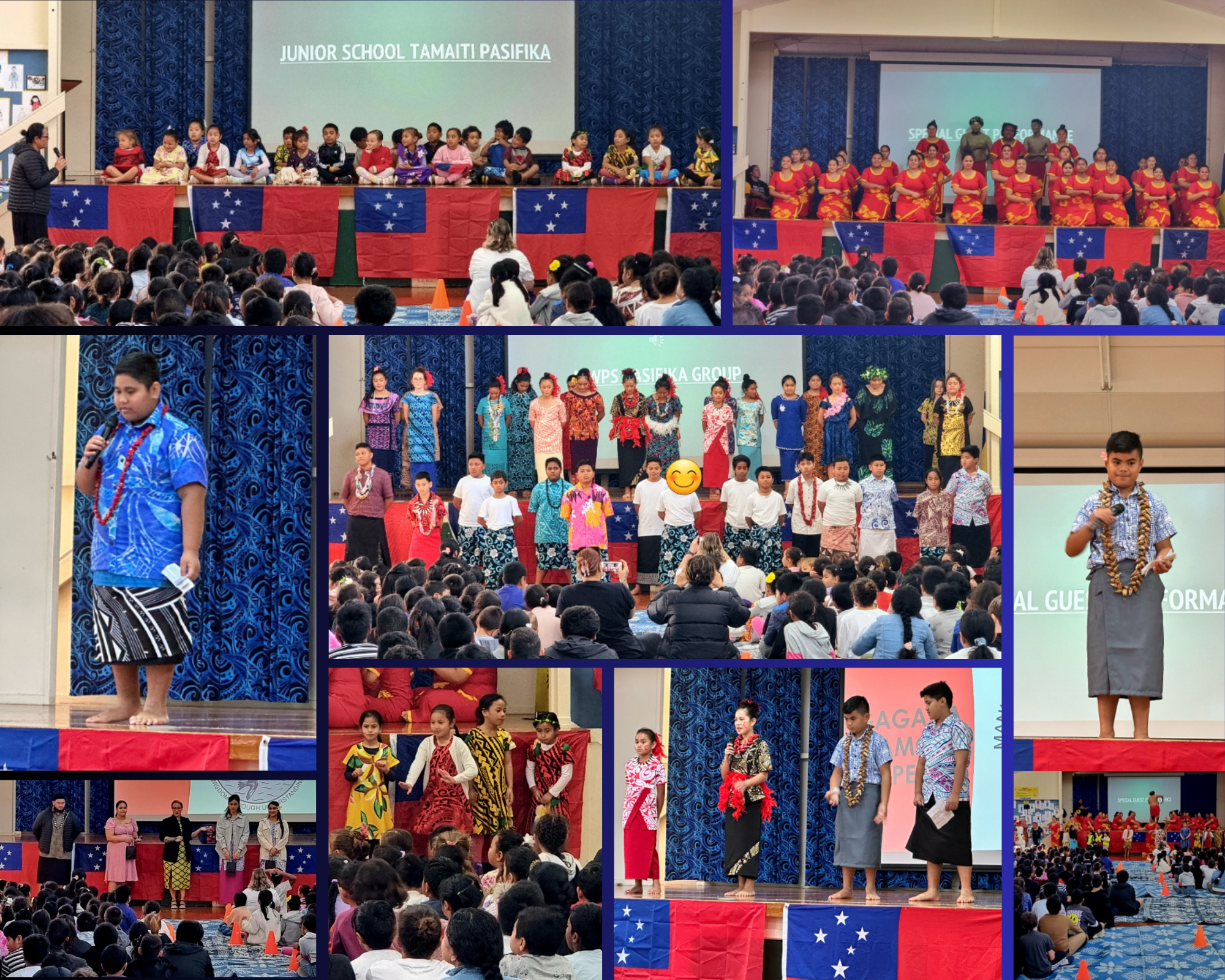 Kurawaka Animation Studios Visit
Following on from the huge success of a published collection of short stories by a select group of Senior School authors and illustrators in 2022, another group of writers and illustrators within our Senior School have been busy with their Matariki publication. As part of this process, our student illustrators had the opportunity to work with highly skilled illustrators and animators to bring their creative pieces to life. A huge thank you to Mrs Madden for overseeing this wonderful project.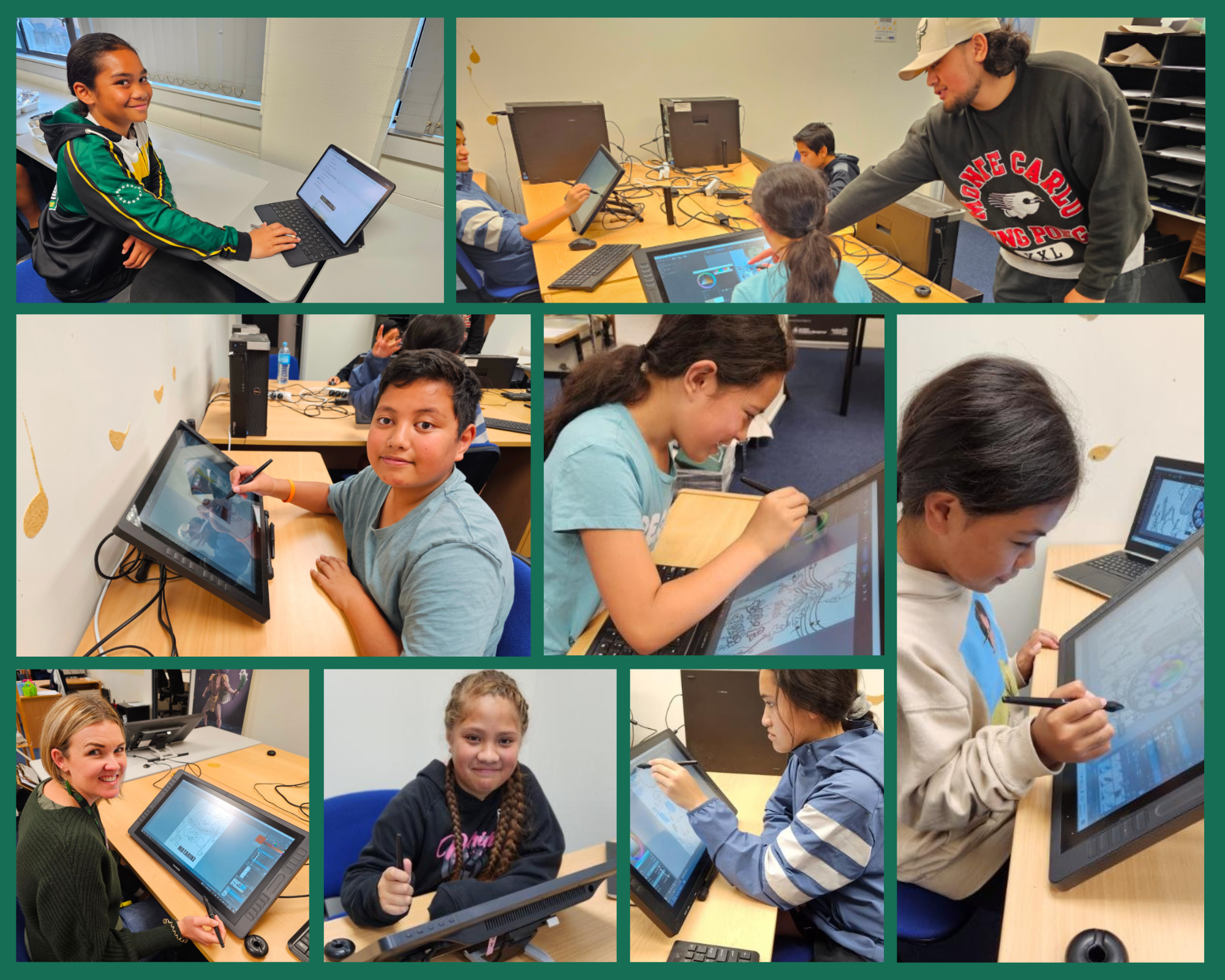 New Entrant Afternoon Tea
Our MWPS New Entrant Parent Afternoon Tea provides a warm and welcoming atmosphere for parents to connect and share their experiences as their children embark on their school journey. Delicious treats and a variety of tea options were served, creating a delightful environment for parents to relax and engage in meaningful conversations about their children's first year at school. Not only did our amazing Riroriro Team Lead, Mrs Natasha Connal and NE Hub leader Mrs Ioelu talk about life in the Junior School and what it is like to be a learner in the NE Hub, but all participants received a New Entrant learning pack. Our New Entrant learning packs provide valuable resources and information for parents, equipping them with the knowledge and support they needed to navigate their child's educational journey with confidence and ease.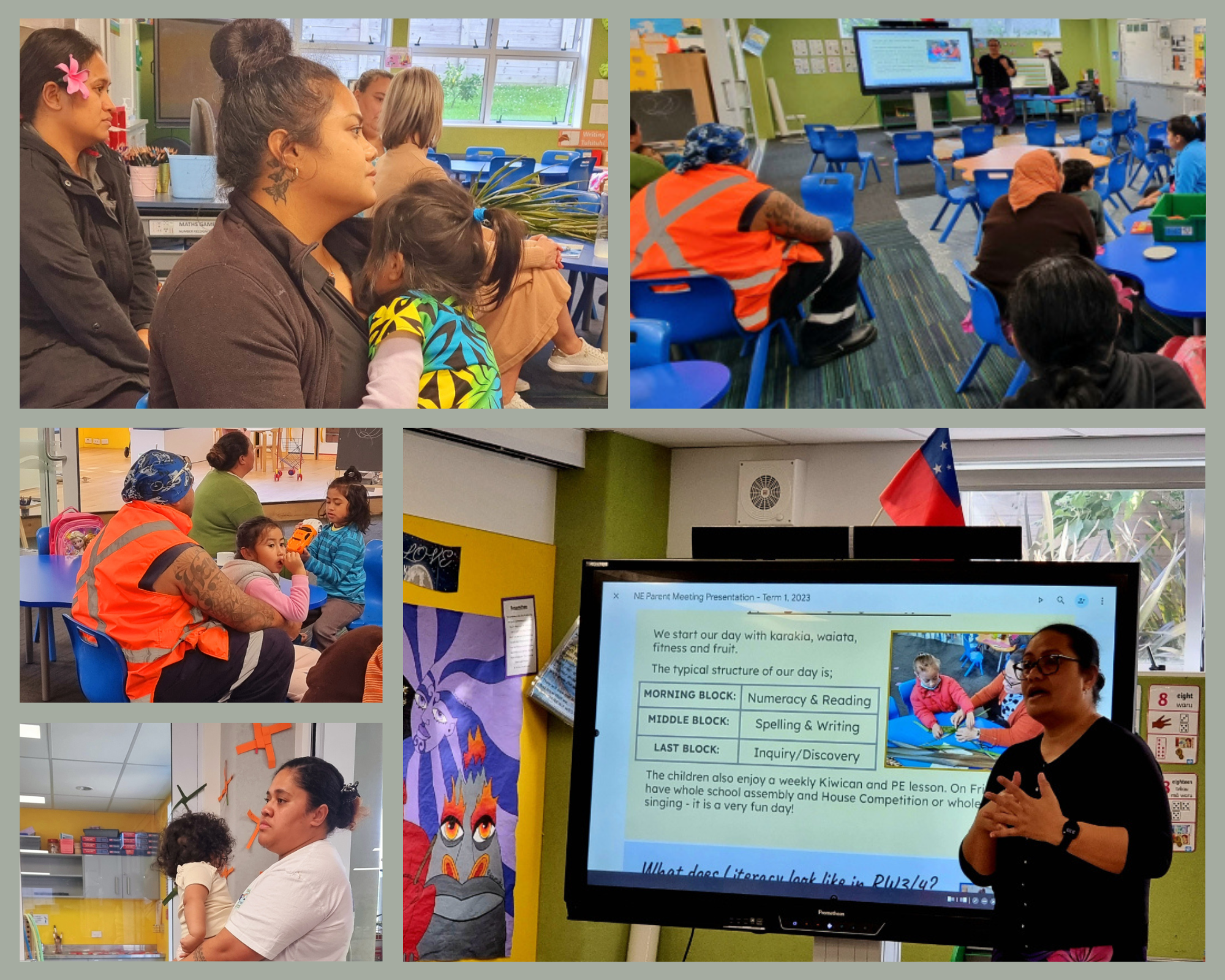 MPSSA Rippa Rugby Tournament
On Wednesday 24th May, MWPS Rippa Rugby stars competed in the annual MPSSA Rippa Rugby Tournament held at Moutfort Park. Manurewa West hosted the tournament once again, with all the mahi completed by our very own Mr Rosewarne who did an amazing job! Ka rawe Mr Rosewarne! We entered a team in both A grade and B Grade. Our B-grade superstars competed fiercely coming in overall 7th out of 14 teams – Well done! Our A-grade team put in a near-perfect performance, losing only 1 game in the competition. It was this team, that they faced in the final, where they won and became champions!
A big congratulations to all our players on your excellent sportsmanship and skill!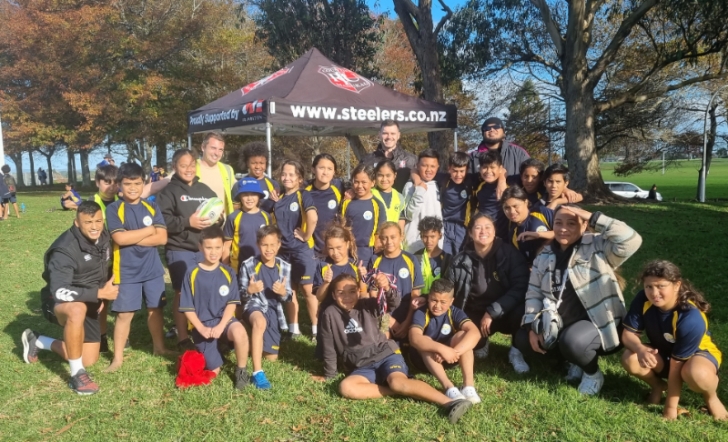 Mother's Day Writing Competition
Learners were encouraged to write a short story about their Mum, sister, Aunty, or a special female in their life.
The winners who produced an outstanding piece of writing won a Bed, Bath and Beyond Voucher and a beautiful stem of strelitzia each. A big thank-you to Bernadette Kelly our amazing sponsor.
Writing Competition Winners:
Riroriro Whānau: Lily, Katrina, Junior
Pīwakawaka Whānau: Camron, Angel, Faizaan
Tūī Whānau: Jacob, Siupeli, Ella, Kaynohs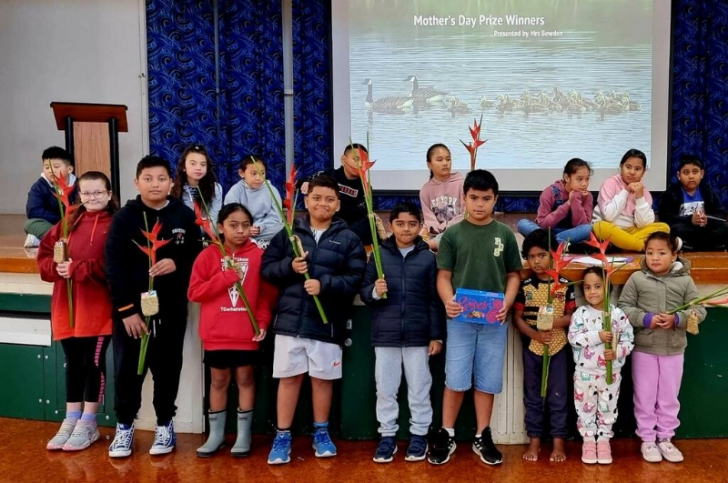 This week we explored a range of sign language activities and learnt to sign a song which we will sing at Assembly on Friday. Find out what's going on at
https://nzslweek.org.nz/
or try learning the New Zealand Sign Language Alphabet!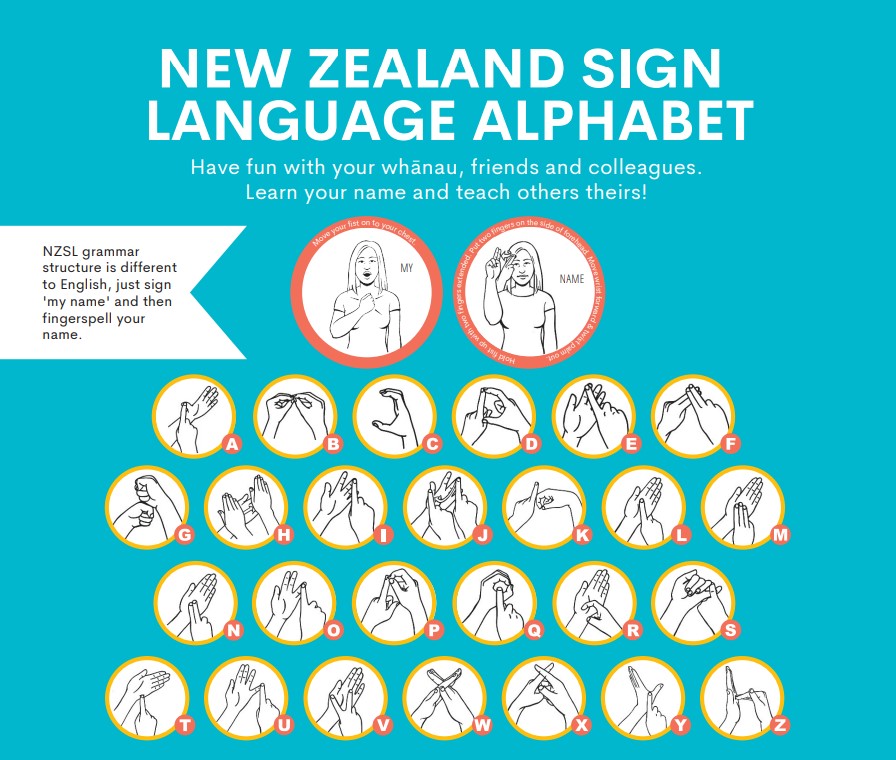 Te Whareumu Kāmura
As part of Tūī Whānau Options 2023, we have launched Te Whareumu Kāmura where the tamariki of Tūī whānau are given the opportunity to become taitamariki kaitunu kai or young chefs. We have been investigating healthy food choices, nutrition, farming and growing techniques and how to cook nutritious meals for whānau from scratch with whats in the fridge or larder.
In our first sessions, we have made New York style pizza from scratch and the ultimate chocolate chunk cookies. Over the next few weeks, we will be looking at buying items in bulk and 'splitting them down' to ensure that there's always a meal that can be made from ingredients at home, preparing fresh, seasonal fruit and vegetables and putting together a hāngi to celebrate Matariki.
Cooking is the ultimate skill: you learn maths, literacy, science, technology and social studies while researching, creating, designing and testing recipes. Plus, you get to eat awesome kai too!!
Pink Shirt Day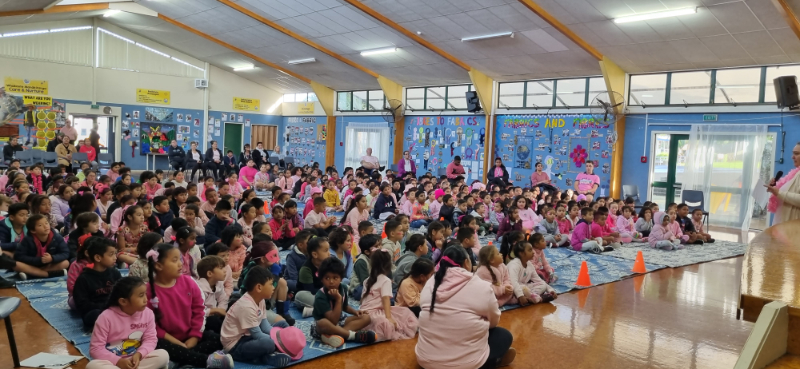 It was a sea of pink at this morning's assembly. It's wonderful to join in with our students and staff to highlight bullying, as it is a very serious issue in New Zealand. Pink Shirt Day is an anti-bullying campaign that celebrates diversity and creates environments where all people can feel safe, valued and respected. Each year workplaces, schools, organisations and individuals join the movement to make a stand against bullying. Let's all do our bit and play our part in making schools and communities safer for all of us and our children.
Book Blast
Our 2023 Book Blast has been a huge success, with learners loving our 'Aotearoa: Tales as Old as Time' theme. Our annual celebration provided us with a fantastic opportunity to promote reading and literacy among our amazing akongā. Our passionate kaiako organised a range of multilingual mapping and storytelling activities and events throughout the week, including:
A large interactive map activity in the library and literacy centre, a "Where in Manurewa?" and a "Where in Tamaki Makaurau?" are Mrs Bowden and Mrs Gosnell
Our fab MWPS Reading Challenge
Fun Whānau challenges at home for house points
Character Day parade!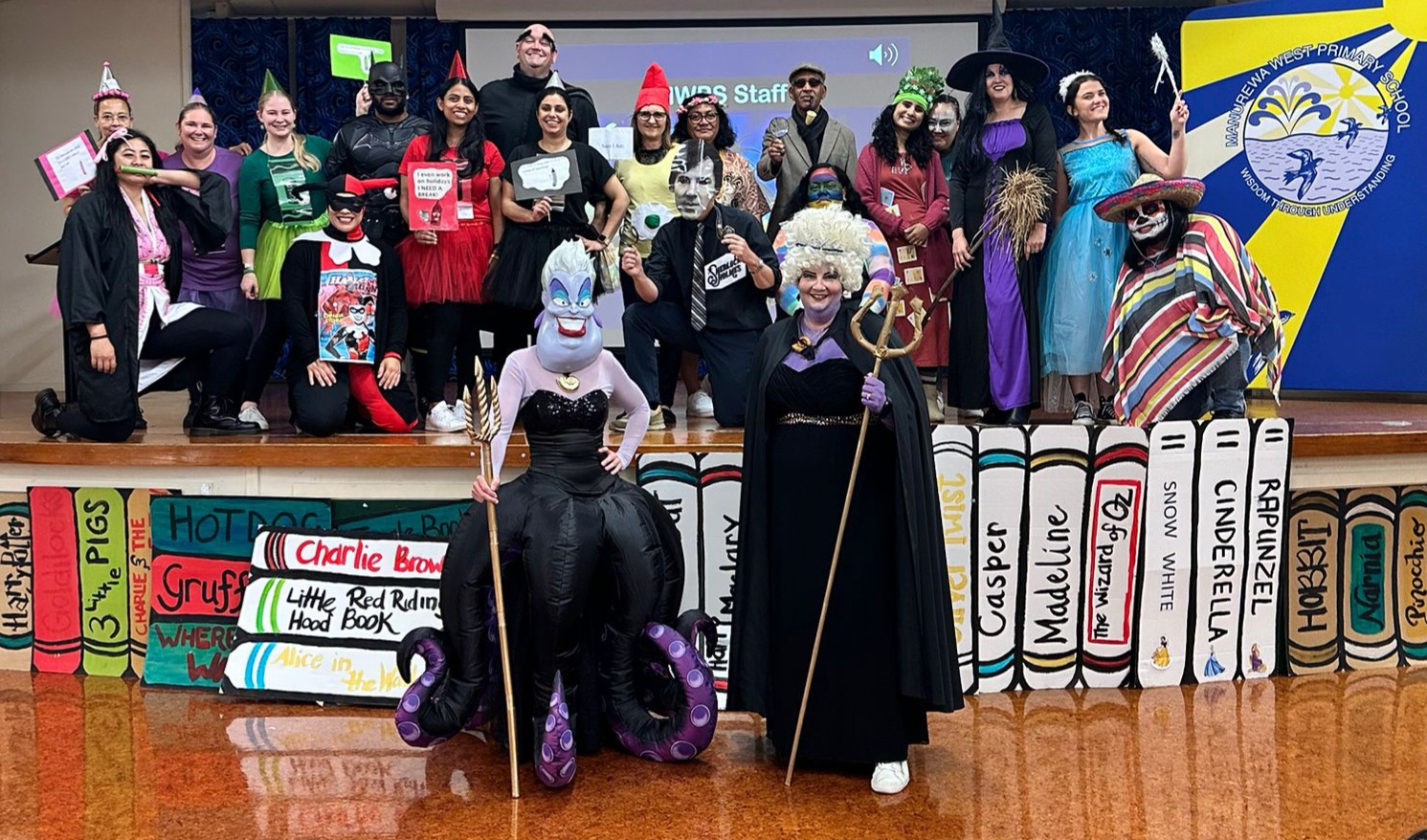 The children had a wonderful time exploring new books, authors, and genres, and we were delighted to see so many of them engage with reading in new and exciting ways. We believe that fostering a love of reading is a crucial part of a child's development, and our Book Blast was an excellent way to inspire our students to become lifelong readers.
We want to extend a big thank you to everyone who participated in this year's event and helped make it such a memorable and enjoyable experience for all.
Competition Winners: Disney Bag full of Books
Riroriro Whānau: Evangeline
Pīwakawaka Whānau: Ruby-Rozay
Tūī Whānau: Letroyoden
We are very grateful to our very generous sponsor Bernadette Kelly who made this possible.
Character Parade Prize Packs Winners:
Riroriro Whānau: Vihaan, Shalom, Niyah, Nikolasi
Pīwakawaka Whānau: Anetelea, Chorus, Kearah, Scout, Christella, Rebecca
Tūī Whānau: Cekyrus, Kyla, Cole Malakai Christian Vuk
Term 1 House Cup Winners
Hey everyone! It's time to reveal the winners of this term's House Cup competition. MWPS is thrilled to announce that after weeks of intense competition, the House Cup goes to none other than… drumroll… Kowhai!
Kowhai has emerged victorious, showing incredible teamwork, courage, and determination throughout the challenges. A huge shout-out to the runners-up, Kakariki, Karakaraka and Waiporoporo who put up an incredible fight. Keep up the fantastic work, and let's make the next term even more exciting!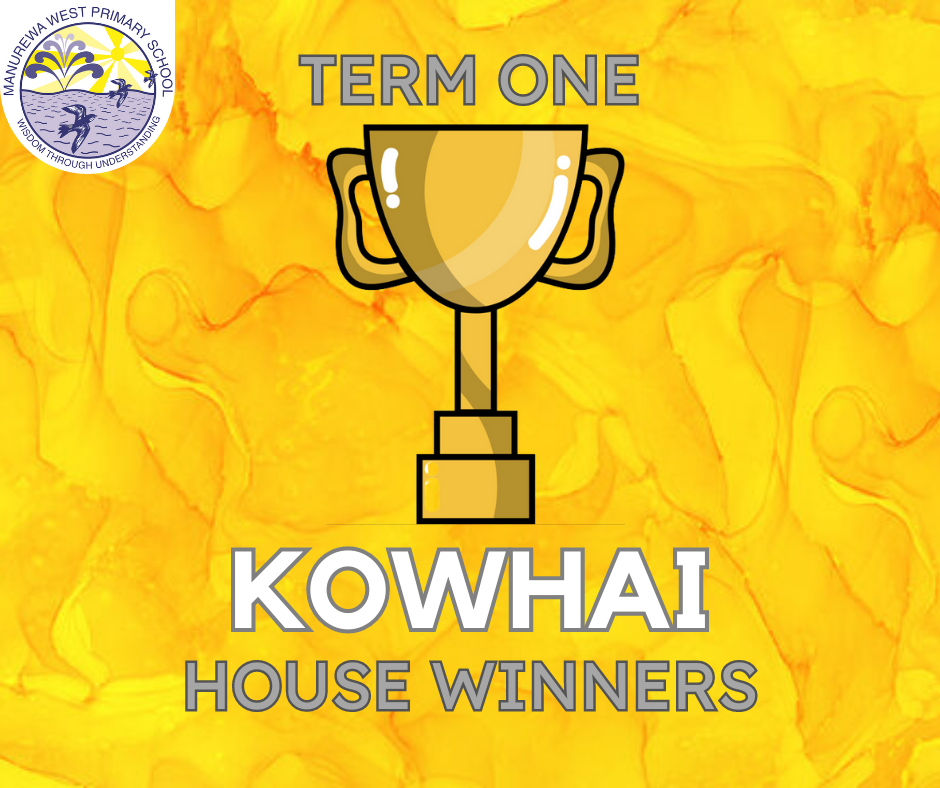 1st Place: Kowhai 18912 points
2nd Place: Kakariki 18281 points
3rd Place: Karakaraka 17205 points
4th Place: Waiporoporo 16933 points
Anzac Assembly
As we commemorated ANZAC Day, we remembered the sacrifices made by the Australian and New Zealand soldiers who landed on the beach at Gallipoli on April 25, 1915. We also remembered the many other brave servicemen and women who have served and continue to serve our country. As always we give special acknowledgement to the Māori Battalion. The Māori Battalion, also known as the 28th Māori Battalion, was formed in 1939 after the New Zealand government agreed to the formation of a Māori unit, in response to a request from Māori leaders who wanted to show their loyalty to New Zealand and support for the war effort.
The Māori Battalion served in the Middle East and North Africa and was involved in many key battles, including the Battle of Crete, the Siege of Tobruk, and the Battle of El Alamein. The Battalion was renowned for their bravery, discipline, and fighting spirit, and earned a reputation as one of the best fighting units of the Allied forces.
Anzac Day always brings reflection, meaning and a sense of deep gratitude.
Today and every day, we remember them.
Health & Physical Education Week
Health and Physical Education Week, was an exciting event that emphasized the importance of maintaining a healthy and active lifestyle. The week was packed with engaging activities and workshops that encouraged our akongā to stay fit and healthy.
During the week, our learners participated in a series of nutrition workshops that taught them the importance of eating a balanced and healthy diet. These interactive workshops provided our students with valuable knowledge and insights into the food they consume, helping them make better food choices.
Another highlight of the week was the whole-school Jump Jam sessions, which were led by our amazing Miss Val. Jump Jam is a popular fitness program that combines dance and aerobics to promote an enjoyable and healthy way to stay active. Our students were thrilled to participate in these energetic and fun-filled sessions, which helped them to stay fit and active.
To conclude the week, we had an exciting Athletics Day that featured a range of activities and challenges. Our students took part in sprint races, balancing activities, and a variety of target-throwing challenges using hoops, weighted bags, and small balls. It was a fantastic way to end the week and encourage our students to put their newfound knowledge and skills into practice.
Writing Week: MWPS Comic Creations
Manurewa West Primary School recently celebrated a successful Writing Week with the theme of 'Cartoon Creations'. This fun and engaging event provided a platform for our students to showcase their creativity and writing skills through cartooning.
As a special highlight, we were fortunate to have New Zealand author and cartoon artist, Stu Duval, visit our school. Stu ran a series of workshops over two days for all three whānau groups Riroriro, Pīwakawaka and Tūī. The workshops were interactive and engaging, allowing our students to learn about the process of creating cartoons and comic strips, from developing characters to writing storylines.
The workshops were a huge success, with Stu sharing his experiences and insights into the world of cartooning and providing valuable tips for aspiring writers and artists. Our students were thrilled to learn from a professional and inspired by his passion for the craft.
What Now
A highlight from Term 1 was definitely having the What Now team visit us at Manurewa West Primary School. It was amazing! Mr Rosewarne ended up on stage doing the 'Caterpillar' and then was covered in ….gunge!
Whakapapa Trip
Every learner in our kura was involved in our Whakapapa Trip, this was an incredible opportunity for our students to learn about the rich history and cultural significance of our māunga and moana. We started the day at the base of Matukutureia where we took time talking about the history of the māunga and practising our sketching skills. Then we continued on our whakapapa journey and spent time at Manukanuka, our moana. We took rubbish bags and gloves and collected as much rubbish as we could find so our beach and nearby playground could be enjoyed by the whole community. Then we had the opportunity to play different Māori games that Mrs Madden had organised for us. We learnt so much and now when we say our school pepeha we know we are connected.
Whānau Picnic
It has been a long time since we have all been able to come together at the start of the year and enjoy a shared experience. Our Whānau Picnic is an annual event that provides a great opportunity for our MWPS community to come together and enjoy an evening of fun and relaxation. There were plenty of activities for all ages, including games, sports, colour fun, and more. Everyone brought their picnic blankets, chairs, and sunscreen, and we all had a great time. It was wonderful to see our school community come together and enjoy each other's company.
Congratulations to all our spot prize winners!
Assembly
One of our weekly highlights is coming together at the end of each week to share at our MWPS Assembly. This week PW1 and PW2 presented their learning and shared some amazing statistics mahi that they had achieved together in class. Check out our video below, or even better come and join us on Friday mornings at 9am in the MWPS Hall for Assembly. All welcome
Mihi Whakatau
On the first Friday of school, we welcomed new students and staff into our MWPS whānau with a mihi whakatau. For those new to our shores, a mihi whakatau is a traditional Māori welcome ceremony. The purpose of the mihi whakatau is to remove the tapu of the Manuhiri (visitors) to make them one with the tangata whenua (Home people). It is a special process of the manuhiri and the tangata whenua coming together.
A warm welcome to our new whānau, we are so pleased you have chosen MWPS to serve your tamariki and whānau. The start to the 2023 school year has not gone as hoped, but in all things we celebrate our special moments & uplift others, extend manākitanga and foster a sense of whanaungatanga.